Two weeks ago I made a rushed five day visit to Cambodia between study commitments.  Here are a few of the most interesting snippets of my week.
From the airport we went straight to Thomas House, a small NGO run by a retired Australian couple on the outskirts of the city.  Running off the smell of an oily rag in an impoverished slum area, they offer a basic health clinic and refuge for neighbourhood children to access a meal and a safe place to play, albeit in mud beside a busy road with rats sauntering around.
They are currently helping a 10 year old with a severe case of ichthyosis.  This condition causes dry, scaly, thickened and cracked skin.  The unsightly overgrowth of skin has led to his eyes being pulled permanently open, with permanent vision loss in one blank-staring eye and the other expected to render him completely blind within a couple of months unless specialist care can be made available.  He and his young father are staying at Thomas House in order to access specialist services in the city, which they can only afford thanks to the fundraising efforts of Thomas House.  Dad is also being taught how to treat the skin with exfoliants and moisturisers, again only affordable thanks to Thomas House.  The Khmer specialist involved has contact with overseas specialists and the family have had Skype consultations with America, Australia and the UK, generating much interest in the medical world apparently.
As well as spending time at Thomas House, learning how they work and some of the neighbourhood issues, we delivered a toy car set to the little boy who is badly teased and excluded by the other children.  They reported that he slept with his cars that night.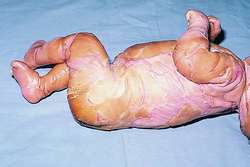 The following day we started at Kung Future who were organising school uniforms for the new school year. With the river so high, the Cham peoples' boats were moored right at the sidewalk, metres above where we usually have to climb down into their muddy community.  Organised chaos reigned as many dozens of different-sized school uniforms had to be dispensed in some way.
From there we headed across to the other edge of the city to visit a couple of other families including the lady whose broken leg had left her destitute with three children and who my housemate and I raised funds for last year so she could have the surgery she needed while keeping her children in school.  Then the family of grandmother, two sets of parents and five young children living in a wooden shack two steps above ground with holes in the ceiling for the rain to fall through and holes in the floors for the children to fall through.
At lunch time we headed in yet another direction, finding a little crooked restaurant for $2 lunch of rice and chicken.  We then arrived for our appointment at the Liger Leadership Academy where a New Zealand friend working there had organised a tour for us.  Two young students with impeccable English and full of hope guided us through the large grounds, well resourced classrooms and stylish residential facilities, talking at length about the school's mission and project-based teaching style.  We then joined a small class of eight students approximately 15 years old, undertaking a project about the Cambodian health system, for a Q & A session they invited us to after hearing of our visit.
As our hour-long Q & A came to an end Wat Opot called to say they were waiting to pick us up.  The Wat Opot children, unless there is no option, go home in the school holidays and our three Kampong Cham boys were waiting to say hello before leaving to spend their holidays with an uncle.  More than six months since we had seen them, they were all taller, bigger and different.  Reportedly nervous about seeing us, it didn't stop them from greeting us excitedly with big hugs before disappearing in a crowded tuk tuk.
That evening was spent soaking up the joy of Wat Opot, including their melting pot of volunteers, the children, the routine of meals, play, meditation and bed time, when the staff and volunteers joined us for a catch up in the volunteer dorm area.  The next morning they were delivering the next set of children home for the holidays, and we were squeezed in amongst the crowds to be delivered en route for our trip south to Kep.
After locating a couple of remote villages and signing children out for the holidays to extended family, we stopped on a busy corner and they offloaded us.  My Khmer travel companion negotiated with what seemed like a million taxi touts until we found one going in the right direction for the right price.  We found a vendor under a dusty canopy, plastic chairs and tin table teetering on sloping mud, offering chicken and rice for breakfast.  The driver waited while we ate, then led us to his mini van, with two seats left, heading about an hour south to Kep.
Kep was time to relax and we spent our days breathing in salty air, strolling alongside the Kampot river, eating seafood, watching fishers, visiting a hillside pagoda and abandoned French estates and generally feeling like we were actually on holiday!
It is exactly fourteen weeks until my longer-term return to Cambodia.